Submitted by

maintainer

on Wed, 2014-12-31 15:35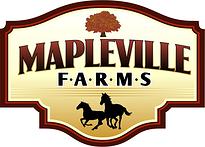 About Us:
This is the horse country! Mapleville Farms Ltd. provides full thoroughbred services on a 300-acre property previously known as Gardiner Farms. The property and its comprehensive facilities are located in the beautiful hills of Caledon with tremendous accessibility to all the top vets, blacksmiths, feed mills, and not to mention the Caledon Equestrian Park. Our thoroughbred operation is only 30-40 minutes north from Toronto within easy reach of Pearson International Airport and Woodbine Racetrack. 

On the property there are three barns and two tracks. The Broodmare and Stallion Barn, Training Barn, and Foaling Barn have 100 stalls in total. The Indoor Race Track is 0.25-mile long with "Travelright" surface. The Outdoor Race Track is 0.5-mile long. Both tracks offer 3 wide galloping.
Facility Details
Facility Type:
Private Training Facility (Accepts boarders, no outside trainers)
Track Details:
Surface:
Indoor Travelright surface