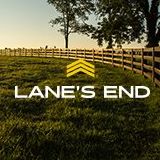 About Us:
Owned by Mr. and Mrs. William S. Farish, is one of the world's premier Thoroughbred farms encompassing more than 2,300 acres in Woodford County in the heart of Central Kentucky. In addition to the acreage in Woodford County, Lane's End leases an additional thousand acres in Fayette County known as our Oak Tree Division and in Texas we operate Lane's End Texas near Hempstead. Currently standing at stud at Lane's End are such leading sires as CANDY RIDE, LEMON DROP KID, and MINESHAFT.
A native of Houston, Texas, Will Farish is a lifelong horseman who raced his first stakes winner, KASKASKIA, in 1967 and has since raced more than 165 stakes winners and bred more than 300 stakes winners, including the 2003 Horse of the Year MINESHAFT, the 1992 Horse of the Year A.P. INDY, 1999 Horse of the Year CHARISMATIC, and Champion LEMON DROP KID. He was the first breeder since A. J. Alexander in 1880 to breed or co-breed two horses (CHARISMATIC and LEMON DROP KID) who combined to win the Kentucky Derby, the Preakness, and the Belmont in the same year. In 1992 and in 1999 he was honored with an Eclipse Award as the year's leading breeder.
Lane's End also has an extraordinary record at the sales, as the leading consignor on 26 occasions and as the seller of more than 365 stakes winners, including such champions as A.P. INDY, SAINT LIAM, RAGS TO RICHES, and LEMON DROP KID.
Farish served as Chairman of the Board of Churchill Downs from 1992 to 2001, has been a Steward and Vice Chairman of The Jockey Club, a Director and Chairman of the Executive Committee of the Breeders' Cup, and a member of the Board of Directors of the Keeneland Association. In 2006, Farish was appointed as a trustee to the Keeneland Association. In 2001, he was appointed by President George W. Bush as the United States Ambassador to the Court of St. James and served in that role for three years.
Annual Sales Attending or Attended:
Keeneland January Horses of All Ages Sale
Fasig-Tipton Kentucky Winter Mixed Sale - February
Fasig-Tipton Kentucky November Mixed Sale
Keeneland November Breeding Stock Sale
Fasig-Tipton Kentucky July Yearling Sale
Fasig-Tipton Saratoga August Yearling Sale
Keeneland September Yearling Sale
Fasig-Tipton Kentucky October Yearling Sale