Submitted by

maintainer

on Mon, 2013-05-20 14:46
Category
Starts
1st
2nd
3rd
Win %
% 1st, 2nd or 3rd
Earned
Avg Earnings per Start
Dirt
7
0
1
2
0%
42.86%
$15,400
$2,200
Turf
4
0
0
1
0%
25%
$7,380
$1,845
All Weather
0
0
0
0
0%
0%
$0
$0
Total
11
0
1
3
0%
36.36%
$22,780
$2,071
Graded Stakes
0
0
0
0
0%
0%
$0
$0
Black-type Stakes
0
0
0
0
0%
0%
$0
$0
Two-year-olds
0
0
0
0
0%
0%
$0
$0
Claiming
0
0
0
0
0%
0%
$0
$0
First-time starters
1
0
0
0
0%
0%
$0
$0
Category
Starts
1st
2nd
3rd
Win %
% 1st, 2nd or 3rd
Earned
Avg Earnings per Start
Dirt
3
0
1
0
0%
33.33%
$34,000
$11,333
Turf
20
0
3
3
0%
30%
$48,763
$2,438
All Weather
0
0
0
0
0%
0%
$0
$0
Total
23
0
4
3
0%
30.43%
$82,763
$3,598
Graded Stakes
1
0
0
0
0%
0%
$12,000
$12,000
Black-type Stakes
3
0
1
0
0%
33.33%
$34,000
$11,333
Two-year-olds
0
0
0
0
0%
0%
$0
$0
Claiming
1
0
1
0
0%
100%
$8,736
$8,736
First-time starters
0
0
0
0
0%
0%
$0
$0
Category
Starts
1st
2nd
3rd
Win %
% 1st, 2nd or 3rd
Earned
Avg Earnings per Start
Dirt
15
1
1
1
6.67%
20%
$64,845
$4,323
Turf
41
4
4
4
9.76%
29.27%
$238,808
$5,825
All Weather
1
0
0
0
0%
0%
$5,608
$5,608
Total
57
5
5
5
8.77%
26.32%
$309,261
$5,426
Graded Stakes
4
0
0
0
0%
0%
$19,680
$4,920
Black-type Stakes
11
1
0
2
9.09%
27.27%
$117,955
$10,723
Two-year-olds
2
0
0
0
0%
0%
$503
$252
Claiming
9
0
0
1
0%
11.11%
$13,567
$1,507
First-time starters
1
0
0
0
0%
0%
$215
$215
Category
Starts
1st
2nd
3rd
Win %
% 1st, 2nd or 3rd
Earned
Avg Earnings per Start
Dirt
14
1
1
3
7.14%
35.71%
$99,910
$7,136
Turf
25
5
1
3
20%
36%
$282,505
$11,300
All Weather
1
0
0
0
0%
0%
$6,560
$6,560
Total
40
6
2
6
15%
35%
$388,975
$9,724
Graded Stakes
6
0
0
1
0%
16.67%
$112,870
$18,812
Black-type Stakes
8
0
0
1
0%
12.5%
$117,270
$14,659
Two-year-olds
8
1
0
1
12.5%
25%
$30,275
$3,784
Claiming
2
1
0
0
50%
50%
$12,540
$6,270
First-time starters
1
0
0
0
0%
0%
$750
$750
Category
Starts
1st
2nd
3rd
Win %
% 1st, 2nd or 3rd
Earned
Avg Earnings per Start
Dirt
19
3
4
3
15.79%
52.63%
$160,835
$8,465
Turf
18
2
0
4
11.11%
33.33%
$97,345
$5,408
All Weather
0
0
0
0
0%
0%
$0
$0
Total
37
5
4
7
13.51%
43.24%
$258,180
$6,978
Graded Stakes
2
0
0
0
0%
0%
$1,000
$500
Black-type Stakes
4
0
0
0
0%
0%
$10,500
$2,625
Two-year-olds
7
0
1
3
0%
57.14%
$31,678
$4,525
Claiming
0
0
0
0
0%
0%
$0
$0
First-time starters
3
0
1
1
0%
66.67%
$16,258
$5,419
Category
Starts
1st
2nd
3rd
Win %
% 1st, 2nd or 3rd
Earned
Avg Earnings per Start
Dirt
7
0
1
0
0%
14.29%
$15,430
$2,204
Turf
8
0
1
0
0%
12.5%
$13,565
$1,696
All Weather
0
0
0
0
0%
0%
$0
$0
Total
15
0
2
0
0%
13.33%
$28,995
$1,933
Graded Stakes
2
0
0
0
0%
0%
$0
$0
Black-type Stakes
3
0
0
0
0%
0%
$1,800
$600
Two-year-olds
5
0
0
0
0%
0%
$2,370
$474
Claiming
0
0
0
0
0%
0%
$0
$0
First-time starters
4
0
0
0
0%
0%
$1,950
$488
Category
Starts
1st
2nd
3rd
Win %
% 1st, 2nd or 3rd
Earned
Avg Earnings per Start
Dirt
0
0
0
0
0%
0%
$0
$0
Turf
3
0
1
0
0%
33.33%
$31,000
$10,333
All Weather
0
0
0
0
0%
0%
$0
$0
Total
3
0
1
0
0%
33.33%
$31,000
$10,333
Graded Stakes
2
0
1
0
0%
50%
$31,000
$15,500
Black-type Stakes
3
0
1
0
0%
33.33%
$31,000
$10,333
Two-year-olds
0
0
0
0
0%
0%
$0
$0
Claiming
0
0
0
0
0%
0%
$0
$0
First-time starters
0
0
0
0
0%
0%
$0
$0
Note: Syndicate list and syndicate statistics have been calculated by equineline
Syndicate Details
| | |
| --- | --- |
| Stable Size: | 6 |
| Number of Owners: | Approx 40 |
| Avg. # of Owners/Horse: | 5-10 |
| Primary Trainer(s): | Jim Toner |
| Tracks Currently Racing: | Belmont, Saratoga, Aqueduct, Delaware Park, Laurel, Colonial Downs, Monmouth, Gulfstream, Fair Grounds |
Syndicate Bio
Ninety North is a thoroughbred racing syndicate based at different times of the year at Belmont/Saratoga in NY, Fair Hill Training Center (Elkton, MD), Fair Grounds in New Orleans, and Palm Meadows in Boynton Beach, FL. We are a boutique operation and we stress the importance of giving our clients the best ownership experience possible. Ninety North members have opportunities all over the East Coast to visit their horses during training hours, watch them race, and hopefully head to the winner's circle afterwards to get their pictures taken!
The Ninety North team is a talented and experienced group that has worked together for many years. Though the company was not launched until late in 2011, President Justin Nicholson and trainer Jimmy Toner already had a relationship that spanned over twenty years, and several others involved in the selection and development of Ninety North's horses have also been longtime associates with outstanding records. Nicholson's goal in creating Ninety North was to take a formula that had worked for the private operations he has been involved with over the years, and bring it to the public at large, especially those who are trying ownership out for the first time or are looking to become better acquainted with horse ownership.
Ninety North's horses spent 2013 competing at many of the nation's top race tracks including Saratoga, Gulfstream, Belmont, Churchill Downs, Fair Grounds, etc. and compiled a roughly 14% win percentage with over 40% of starters finishing in the money. The on-track results are solid, and the ownership experience that comes from being in a smaller-sized stable with its horses all in the care of one trainer is difficult to beat.
If you are considering trying out horse ownership in the future, give Ninety North a look and let us know that you're interested. We'll be happy to explain why we think we are a unique opportunity among many competitive syndicates racing today!
| | | | | |
| --- | --- | --- | --- | --- |
| Horse | Sex | Current Earnings | Best Win Race Class | Best Win Stake |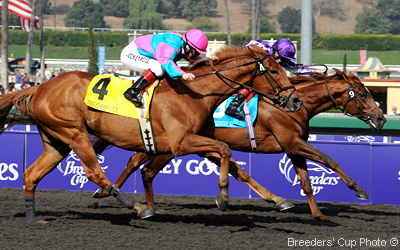 | | | |
| --- | --- | --- |
| References Name | # Horses Trained | Best Horse Trained |