Submitted by

admin

on Thu, 2015-04-16 09:21
Category
Starts
1st
2nd
3rd
Win %
% 1st, 2nd or 3rd
Earned
Avg Earnings per Start
Dirt
0
0
0
0
0%
0%
$0
$0
Turf
0
0
0
0
0%
0%
$0
$0
All Weather
4
0
0
0
0%
0%
$1,080
$270
Total
4
0
0
0
0%
0%
$1,080
$270
Graded Stakes
0
0
0
0
0%
0%
$0
$0
Black-type Stakes
0
0
0
0
0%
0%
$0
$0
Two-year-olds
0
0
0
0
0%
0%
$0
$0
Claiming
2
0
0
0
0%
0%
$630
$315
First-time starters
0
0
0
0
0%
0%
$0
$0
Category
Starts
1st
2nd
3rd
Win %
% 1st, 2nd or 3rd
Earned
Avg Earnings per Start
Dirt
4
0
0
0
0%
0%
$1,210
$303
Turf
3
0
0
0
0%
0%
$460
$153
All Weather
13
1
0
2
7.69%
23.08%
$11,030
$848
Total
20
1
0
2
5%
15%
$12,700
$635
Graded Stakes
0
0
0
0
0%
0%
$0
$0
Black-type Stakes
0
0
0
0
0%
0%
$0
$0
Two-year-olds
0
0
0
0
0%
0%
$0
$0
Claiming
3
0
0
1
0%
33.33%
$2,265
$755
First-time starters
1
0
0
0
0%
0%
$105
$105
Note: Syndicate list and syndicate statistics have been calculated by equineline
Syndicate Details
| | |
| --- | --- |
| Stable Size: | 10 |
| Number of Owners: | 3 |
| Avg. # of Owners/Horse: | 3 |
| Primary Trainer(s): | Ricky Agarie, Tim Rycroft, Quentin Miller |
| Tracks Currently Racing: | Santa Anita, Del Mar, Los Alamitos, Golden Gate, Turf Paradise, Hastings Racecourse, Northlands Park |
Syndicate Bio
Our mission is to provide passion, dedication and integrity to every syndicate we create.  With these company wide ideals in place we feel we can foster the correct type of environment to every investor we partner with.
We do our best to provide a transparent and inviting atmosphere to all of our investors and clients and we make it a priority to ensure that everyone feels that they are fully involved in all aspects of our racing partnerships.
What we offer:  The ability to turn the dream of racehorse ownership into reality!  With Elevated Bloodstock you can have the CONFIDENCE in knowing that you are joining a team that will engage you in the process of horse ownership, will pledge to make the partnership enjoyable and entertaining for all; while managing the details of horse ownership in an efficient manner.
The truly unique aspect that we bring to all of our syndicates is that they are free of TRAINING FEES.  We involve each trainer we engage in our syndications with an ownership stake.  This means that unlike the traditional practice, the owner and trainer are on the same compensation structure.  For obvious reasons, this structure is refreshingly mutually beneficial for the syndicate and the trainer.  As with any business venture, the goal is to be successful.  We feel this structure allows us the best ability to attain success and ultimately to WIN RACES!
5% shares are available in thoroughbred racehorses that have passed our vetting process that have either been acquired via private purchase, claiming races or auction.
| | | | | |
| --- | --- | --- | --- | --- |
| Horse | Sex | Current Earnings | Best Win Race Class | Best Win Stake |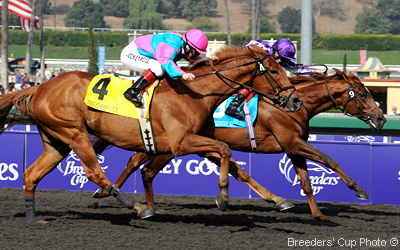 | | | |
| --- | --- | --- |
| References Name | # Horses Trained | Best Horse Trained |