Submitted by

maintainer

on Thu, 2018-08-09 12:58
Category
Starts
1st
2nd
3rd
Win %
% 1st, 2nd or 3rd
Earned
Avg Earnings per Start
Dirt
3
0
0
0
0%
0%
$764
$255
Turf
0
0
0
0
0%
0%
$0
$0
All Weather
0
0
0
0
0%
0%
$0
$0
Total
3
0
0
0
0%
0%
$764
$255
Graded Stakes
0
0
0
0
0%
0%
$0
$0
Black-type Stakes
0
0
0
0
0%
0%
$0
$0
Two-year-olds
0
0
0
0
0%
0%
$0
$0
Claiming
3
0
0
0
0%
0%
$764
$255
First-time starters
0
0
0
0
0%
0%
$0
$0
Category
Starts
1st
2nd
3rd
Win %
% 1st, 2nd or 3rd
Earned
Avg Earnings per Start
Dirt
11
0
0
0
0%
0%
$3,013
$274
Turf
0
0
0
0
0%
0%
$0
$0
All Weather
0
0
0
0
0%
0%
$0
$0
Total
11
0
0
0
0%
0%
$3,013
$274
Graded Stakes
0
0
0
0
0%
0%
$0
$0
Black-type Stakes
0
0
0
0
0%
0%
$0
$0
Two-year-olds
0
0
0
0
0%
0%
$0
$0
Claiming
11
0
0
0
0%
0%
$3,013
$274
First-time starters
0
0
0
0
0%
0%
$0
$0
Category
Starts
1st
2nd
3rd
Win %
% 1st, 2nd or 3rd
Earned
Avg Earnings per Start
Dirt
16
1
0
2
6.25%
18.75%
$10,601
$663
Turf
0
0
0
0
0%
0%
$0
$0
All Weather
0
0
0
0
0%
0%
$0
$0
Total
16
1
0
2
6.25%
18.75%
$10,601
$663
Graded Stakes
0
0
0
0
0%
0%
$0
$0
Black-type Stakes
0
0
0
0
0%
0%
$0
$0
Two-year-olds
0
0
0
0
0%
0%
$0
$0
Claiming
3
0
0
0
0%
0%
$592
$197
First-time starters
1
0
0
0
0%
0%
$100
$100
Category
Starts
1st
2nd
3rd
Win %
% 1st, 2nd or 3rd
Earned
Avg Earnings per Start
Dirt
12
0
0
0
0%
0%
$1,652
$138
Turf
0
0
0
0
0%
0%
$0
$0
All Weather
0
0
0
0
0%
0%
$0
$0
Total
12
0
0
0
0%
0%
$1,652
$138
Graded Stakes
0
0
0
0
0%
0%
$0
$0
Black-type Stakes
0
0
0
0
0%
0%
$0
$0
Two-year-olds
2
0
0
0
0%
0%
$200
$100
Claiming
0
0
0
0
0%
0%
$0
$0
First-time starters
3
0
0
0
0%
0%
$300
$100
Note: Syndicate list and syndicate statistics have been calculated by equineline
Syndicate Details
| | |
| --- | --- |
| Stable Size: | 2 |
| Number of Owners: | 6 |
| Avg. # of Owners/Horse: | 6 |
| Primary Trainer(s): | Kristy Grazzier |
| Tracks Currently Racing: | Charles Town |
Syndicate Bio
Currently offering FREE participation in an established partnership of two horses we have 
Bred and are racing now at Charles Town Racetrack.
GO TO WWW.OWNTHETAIL.COM FOR COMPLETE DETAILS.
ONE HORSE KING DEREK IS A 3 YEAR OLD GELDING. HE RAN 4TH LAST TIME OUT FOR $12,500.
OTHER HORSE IS BRING ON THE GREY. SHE RAN 3RD FOR $5000 LAST TIME OUT.
YES IT IS TRUE.
FREE OWNERSHIP
Our LLC  managers concepts for developing race horse partnerships and ownership has been used by many during the last 30 years.
Some of the biggest and best partnership arounbd today are led by former owners of our manager using his concepts and ideas.
| | | | | |
| --- | --- | --- | --- | --- |
| Horse | Sex | Current Earnings | Best Win Race Class | Best Win Stake |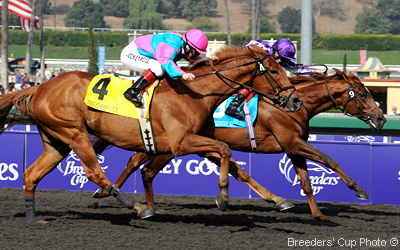 | | | |
| --- | --- | --- |
| References Name | # Horses Trained | Best Horse Trained |
| Donna Higgins | 2 | King Derek |