Submitted by

Anonymous (not verified)

on Wed, 2012-02-22 16:19
Category
Starts
1st
2nd
3rd
Win %
% 1st, 2nd or 3rd
Earned
Avg Earnings per Start
Dirt
3
0
1
1
0%
66.67%
$23,490
$7,830
Turf
2
0
1
0
0%
50%
$16,600
$8,300
All Weather
0
0
0
0
0%
0%
$0
$0
Total
5
0
2
1
0%
60%
$40,090
$8,018
Graded Stakes
0
0
0
0
0%
0%
$0
$0
Black-type Stakes
1
0
0
1
0%
100%
$12,900
$12,900
Two-year-olds
0
0
0
0
0%
0%
$0
$0
Claiming
1
0
1
0
0%
100%
$9,600
$9,600
First-time starters
0
0
0
0
0%
0%
$0
$0
Category
Starts
1st
2nd
3rd
Win %
% 1st, 2nd or 3rd
Earned
Avg Earnings per Start
Dirt
6
1
2
2
16.67%
83.33%
$78,982
$13,164
Turf
2
0
0
1
0%
50%
$10,200
$5,100
All Weather
0
0
0
0
0%
0%
$0
$0
Total
8
1
2
3
12.5%
75%
$89,182
$11,148
Graded Stakes
1
0
0
0
0%
0%
$1,200
$1,200
Black-type Stakes
3
0
1
0
0%
33.33%
$23,772
$7,924
Two-year-olds
7
1
2
2
14.29%
71.43%
$87,422
$12,489
Claiming
0
0
0
0
0%
0%
$0
$0
First-time starters
1
0
0
1
0%
100%
$9,000
$9,000
Category
Starts
1st
2nd
3rd
Win %
% 1st, 2nd or 3rd
Earned
Avg Earnings per Start
Dirt
5
0
2
1
0%
60%
$20,510
$4,102
Turf
8
1
1
1
12.5%
37.5%
$37,967
$4,746
All Weather
0
0
0
0
0%
0%
$0
$0
Total
13
1
3
2
7.69%
46.15%
$58,477
$4,498
Graded Stakes
0
0
0
0
0%
0%
$0
$0
Black-type Stakes
0
0
0
0
0%
0%
$0
$0
Two-year-olds
2
0
1
0
0%
50%
$10,250
$5,125
Claiming
6
1
1
1
16.67%
50%
$37,220
$6,203
First-time starters
1
0
1
0
0%
100%
$10,000
$10,000
Category
Starts
1st
2nd
3rd
Win %
% 1st, 2nd or 3rd
Earned
Avg Earnings per Start
Dirt
15
2
2
3
13.33%
46.67%
$99,895
$6,660
Turf
14
0
3
0
0%
21.43%
$51,388
$3,671
All Weather
4
1
0
0
25%
25%
$11,183
$2,796
Total
33
3
5
3
9.09%
33.33%
$162,466
$4,923
Graded Stakes
0
0
0
0
0%
0%
$0
$0
Black-type Stakes
1
0
0
0
0%
0%
$3,000
$3,000
Two-year-olds
7
1
1
0
14.29%
28.57%
$56,230
$8,033
Claiming
8
2
2
0
25%
50%
$54,710
$6,839
First-time starters
4
0
1
0
0%
25%
$17,313
$4,328
Category
Starts
1st
2nd
3rd
Win %
% 1st, 2nd or 3rd
Earned
Avg Earnings per Start
Dirt
26
3
3
3
11.54%
34.62%
$132,380
$5,092
Turf
27
1
5
3
3.7%
33.33%
$134,699
$4,989
All Weather
1
0
0
0
0%
0%
$0
$0
Total
54
4
8
6
7.41%
33.33%
$267,079
$4,946
Graded Stakes
2
0
1
0
0%
50%
$10,000
$5,000
Black-type Stakes
7
0
0
1
0%
14.29%
$23,400
$3,343
Two-year-olds
4
1
1
0
25%
50%
$40,540
$10,135
Claiming
9
1
2
0
11.11%
33.33%
$40,115
$4,457
First-time starters
4
0
1
0
0%
25%
$11,890
$2,973
Category
Starts
1st
2nd
3rd
Win %
% 1st, 2nd or 3rd
Earned
Avg Earnings per Start
Dirt
35
9
5
6
25.71%
57.14%
$1,439,462
$41,127
Turf
21
6
2
3
28.57%
52.38%
$347,578
$16,551
All Weather
1
0
0
0
0%
0%
$10,340
$10,340
Total
57
15
7
9
26.32%
54.39%
$1,797,380
$31,533
Graded Stakes
11
4
2
0
36.36%
54.55%
$1,279,814
$116,347
Black-type Stakes
13
6
1
0
46.15%
53.85%
$1,396,814
$107,447
Two-year-olds
3
0
1
2
0%
100%
$32,400
$10,800
Claiming
5
1
0
3
20%
80%
$45,860
$9,172
First-time starters
4
0
0
1
0%
25%
$10,950
$2,738
Category
Starts
1st
2nd
3rd
Win %
% 1st, 2nd or 3rd
Earned
Avg Earnings per Start
Dirt
60
10
16
6
16.67%
53.33%
$1,713,843
$28,564
Turf
40
6
2
5
15%
32.5%
$305,345
$7,634
All Weather
2
0
1
0
0%
50%
$152,900
$76,450
Total
102
16
19
11
15.69%
45.1%
$2,172,088
$21,295
Graded Stakes
13
2
2
2
15.38%
46.15%
$1,439,167
$110,705
Black-type Stakes
20
3
3
3
15%
45%
$1,551,817
$77,591
Two-year-olds
25
5
6
1
20%
48%
$311,449
$12,458
Claiming
7
2
1
1
28.57%
57.14%
$49,495
$7,071
First-time starters
8
0
2
0
0%
25%
$33,860
$4,233
Category
Starts
1st
2nd
3rd
Win %
% 1st, 2nd or 3rd
Earned
Avg Earnings per Start
Dirt
121
19
21
18
15.7%
47.93%
$765,171
$6,324
Turf
66
5
6
5
7.58%
24.24%
$252,845
$3,831
All Weather
8
1
1
1
12.5%
37.5%
$37,818
$4,727
Total
195
25
28
24
12.82%
39.49%
$1,055,834
$5,415
Graded Stakes
7
0
0
0
0%
0%
$22,111
$3,159
Black-type Stakes
11
1
1
1
9.09%
27.27%
$106,310
$9,665
Two-year-olds
24
2
3
3
8.33%
33.33%
$170,892
$7,121
Claiming
46
5
9
7
10.87%
45.65%
$149,983
$3,261
First-time starters
12
2
3
0
16.67%
41.67%
$113,470
$9,456
Category
Starts
1st
2nd
3rd
Win %
% 1st, 2nd or 3rd
Earned
Avg Earnings per Start
Dirt
150
30
26
20
20%
50.67%
$1,108,604
$7,391
Turf
50
5
5
4
10%
28%
$146,492
$2,930
All Weather
13
4
2
0
30.77%
46.15%
$236,283
$18,176
Total
213
39
33
24
18.31%
45.07%
$1,491,379
$7,002
Graded Stakes
6
2
1
1
33.33%
66.67%
$484,675
$80,779
Black-type Stakes
17
2
2
4
11.76%
47.06%
$533,534
$31,384
Two-year-olds
40
4
8
6
10%
45%
$219,347
$5,484
Claiming
40
14
6
3
35%
57.5%
$189,514
$4,738
First-time starters
17
2
1
3
11.76%
35.29%
$98,930
$5,819
Note: Syndicate list and syndicate statistics have been calculated by equineline
Syndicate Bio
Seventy-seven stakes winners, seven trips to the Kentucky Derby, a Preakness winner, six millionaires, two Eclipse Awards and a Breeders' Cup victory mark the immediate highlights of Dogwood Stable— the original racing partnership. Dogwood Stable President W. Cothran "Cot" Campbell formulated the idea of partnerships in 1969 and has never looked back.
The concept of group ownership of Thoroughbreds appealed to Cot Campbell because it allowed people the opportunity to participate in the racing world at a reasonable cost. This simple idea became a success beyond his wildest dreams.
A Dogwood partnership raced the 1990 Preakness winner Summer Squall. His Eclipse Award-winning daughter Storm Song won the Breeders' Cup Juvenile Fillies in 1996, marking Dogwood Stable's second Eclipse Award. The talented steeplechaser Inlander earned an Eclipse in 1987. Mrs. Cornwallis became Dogwood's first stakes winner in 1971 and she was followed by such notables as Dominion, Domynsky, Nassipour, Southjet, Wallenda, Trippi, Smok'n Frolic, Limehouse, Cotton Blossom, and Aikenite. Dogwood is one of an elite group of stables that has won both a U.S. Classic race and a Breeders' Cup race...and six times Dogwood horses have represented the United States of America in international racing competition.
The current roster includes 25 horses— from two-year-olds to seasoned track veterans. Dogwood horses compete at the most prestigious tracks in the East and Midwest.
Dogwood Stable is headquartered in Aiken, South Carolina, a popular training ground for many first-class stables.
| | | | | |
| --- | --- | --- | --- | --- |
| Horse | Sex | Current Earnings | Best Win Race Class | Best Win Stake |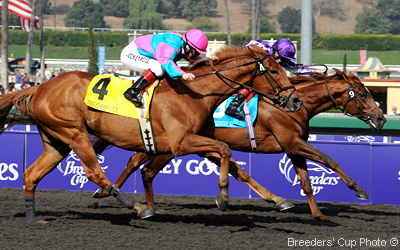 | | | |
| --- | --- | --- |
| References Name | # Horses Trained | Best Horse Trained |