Submitted by

Anonymous (not verified)

on Fri, 2012-02-17 13:18
Category
Starts
1st
2nd
3rd
Win %
% 1st, 2nd or 3rd
Earned
Avg Earnings per Start
Dirt
42
4
12
9
9.52%
59.52%
$468,681
$11,159
Turf
26
3
6
3
11.54%
46.15%
$209,215
$8,047
All Weather
1
0
1
0
0%
100%
$6,000
$6,000
Total
69
7
19
12
10.14%
55.07%
$683,896
$9,912
Graded Stakes
7
2
1
0
28.57%
42.86%
$277,910
$39,701
Black-type Stakes
9
3
1
0
33.33%
44.44%
$335,570
$37,286
Two-year-olds
0
0
0
0
0%
0%
$0
$0
Claiming
3
1
1
1
33.33%
100%
$21,970
$7,323
First-time starters
6
0
2
0
0%
33.33%
$18,070
$3,012
Category
Starts
1st
2nd
3rd
Win %
% 1st, 2nd or 3rd
Earned
Avg Earnings per Start
Dirt
203
34
31
28
16.75%
45.81%
$2,446,032
$12,049
Turf
135
18
22
16
13.33%
41.48%
$1,192,083
$8,830
All Weather
28
8
5
6
28.57%
67.86%
$242,554
$8,663
Total
366
60
58
50
16.39%
45.9%
$3,880,669
$10,603
Graded Stakes
41
3
6
5
7.32%
34.15%
$979,787
$23,897
Black-type Stakes
67
8
8
10
11.94%
38.81%
$1,418,487
$21,171
Two-year-olds
63
8
8
9
12.7%
39.68%
$702,202
$11,146
Claiming
32
9
4
4
28.13%
53.13%
$241,182
$7,537
First-time starters
27
3
2
5
11.11%
37.04%
$180,332
$6,679
Category
Starts
1st
2nd
3rd
Win %
% 1st, 2nd or 3rd
Earned
Avg Earnings per Start
Dirt
188
35
38
21
18.62%
50%
$2,814,758
$14,972
Turf
121
14
17
17
11.57%
39.67%
$919,525
$7,599
All Weather
19
5
2
6
26.32%
68.42%
$100,440
$5,286
Total
328
54
57
44
16.46%
47.26%
$3,834,723
$11,691
Graded Stakes
52
4
8
6
7.69%
34.62%
$1,442,638
$27,743
Black-type Stakes
77
8
15
8
10.39%
40.26%
$1,910,163
$24,807
Two-year-olds
61
9
7
7
14.75%
37.7%
$710,896
$11,654
Claiming
29
4
4
4
13.79%
41.38%
$97,686
$3,368
First-time starters
30
4
2
6
13.33%
40%
$229,870
$7,662
Category
Starts
1st
2nd
3rd
Win %
% 1st, 2nd or 3rd
Earned
Avg Earnings per Start
Dirt
136
26
21
19
19.12%
48.53%
$3,964,844
$29,153
Turf
93
12
19
10
12.9%
44.09%
$1,190,984
$12,806
All Weather
15
4
5
1
26.67%
66.67%
$134,076
$8,938
Total
244
42
45
30
17.21%
47.95%
$5,289,904
$21,680
Graded Stakes
36
3
5
6
8.33%
38.89%
$3,473,666
$96,491
Black-type Stakes
55
5
10
11
9.09%
47.27%
$3,774,230
$68,622
Two-year-olds
56
10
13
9
17.86%
57.14%
$1,126,687
$20,119
Claiming
22
4
4
1
18.18%
40.91%
$127,378
$5,790
First-time starters
28
6
1
3
21.43%
35.71%
$250,620
$8,951
Category
Starts
1st
2nd
3rd
Win %
% 1st, 2nd or 3rd
Earned
Avg Earnings per Start
Dirt
157
20
26
21
12.74%
42.68%
$1,063,799
$6,776
Turf
76
10
3
11
13.16%
31.58%
$946,563
$12,455
All Weather
15
3
1
1
20%
33.33%
$104,269
$6,951
Total
248
33
30
33
13.31%
38.71%
$2,114,631
$8,527
Graded Stakes
18
2
2
4
11.11%
44.44%
$595,246
$33,069
Black-type Stakes
32
2
4
8
6.25%
43.75%
$792,538
$24,767
Two-year-olds
47
3
8
6
6.38%
36.17%
$368,236
$7,835
Claiming
24
4
4
2
16.67%
41.67%
$111,464
$4,644
First-time starters
27
1
4
1
3.7%
22.22%
$125,092
$4,633
Category
Starts
1st
2nd
3rd
Win %
% 1st, 2nd or 3rd
Earned
Avg Earnings per Start
Dirt
108
18
19
10
16.67%
43.52%
$1,909,360
$17,679
Turf
91
11
12
12
12.09%
38.46%
$1,269,855
$13,954
All Weather
18
4
2
3
22.22%
50%
$139,841
$7,769
Total
217
33
33
25
15.21%
41.94%
$3,319,056
$15,295
Graded Stakes
18
3
1
4
16.67%
44.44%
$1,389,700
$77,206
Black-type Stakes
54
9
6
7
16.67%
40.74%
$2,228,657
$41,271
Two-year-olds
35
5
7
3
14.29%
42.86%
$357,446
$10,213
Claiming
27
5
4
1
18.52%
37.04%
$143,114
$5,301
First-time starters
16
2
3
1
12.5%
37.5%
$116,772
$7,298
Category
Starts
1st
2nd
3rd
Win %
% 1st, 2nd or 3rd
Earned
Avg Earnings per Start
Dirt
177
24
36
32
13.56%
51.98%
$2,562,683
$14,478
Turf
72
11
9
10
15.28%
41.67%
$1,666,724
$23,149
All Weather
19
4
2
4
21.05%
52.63%
$252,303
$13,279
Total
268
39
47
46
14.55%
49.25%
$4,481,710
$16,723
Graded Stakes
39
4
5
6
10.26%
38.46%
$2,192,590
$56,220
Black-type Stakes
79
11
11
11
13.92%
41.77%
$3,027,721
$38,326
Two-year-olds
42
6
6
6
14.29%
42.86%
$268,157
$6,385
Claiming
19
1
3
3
5.26%
36.84%
$45,185
$2,378
First-time starters
19
3
6
1
15.79%
52.63%
$135,585
$7,136
Category
Starts
1st
2nd
3rd
Win %
% 1st, 2nd or 3rd
Earned
Avg Earnings per Start
Dirt
184
43
35
30
23.37%
58.7%
$2,372,109
$12,892
Turf
64
9
12
5
14.06%
40.63%
$800,279
$12,504
All Weather
39
7
5
7
17.95%
48.72%
$277,703
$7,121
Total
287
59
52
42
20.56%
53.31%
$3,450,091
$12,021
Graded Stakes
32
3
5
1
9.38%
28.13%
$941,918
$29,435
Black-type Stakes
58
8
12
5
13.79%
43.1%
$1,472,153
$25,382
Two-year-olds
55
9
5
13
16.36%
49.09%
$529,905
$9,635
Claiming
28
7
9
4
25%
71.43%
$163,029
$5,822
First-time starters
21
1
1
4
4.76%
28.57%
$104,860
$4,993
Category
Starts
1st
2nd
3rd
Win %
% 1st, 2nd or 3rd
Earned
Avg Earnings per Start
Dirt
109
19
16
20
17.43%
50.46%
$1,088,175
$9,983
Turf
77
4
9
11
5.19%
31.17%
$353,300
$4,588
All Weather
39
9
0
7
23.08%
41.03%
$347,320
$8,906
Total
225
32
25
38
14.22%
42.22%
$1,788,795
$7,950
Graded Stakes
22
2
0
3
9.09%
22.73%
$393,599
$17,891
Black-type Stakes
37
4
1
6
10.81%
29.73%
$568,741
$15,371
Two-year-olds
36
5
3
6
13.89%
38.89%
$358,321
$9,953
Claiming
42
6
5
5
14.29%
38.1%
$171,619
$4,086
First-time starters
19
3
0
2
15.79%
26.32%
$126,773
$6,672
Category
Starts
1st
2nd
3rd
Win %
% 1st, 2nd or 3rd
Earned
Avg Earnings per Start
Dirt
166
26
29
34
15.66%
53.61%
$1,367,334
$8,237
Turf
88
13
16
14
14.77%
48.86%
$547,394
$6,220
All Weather
54
7
9
6
12.96%
40.74%
$434,520
$8,047
Total
308
46
54
54
14.94%
50%
$2,349,248
$7,627
Graded Stakes
21
3
3
2
14.29%
38.1%
$602,651
$28,698
Black-type Stakes
47
5
7
7
10.64%
40.43%
$868,020
$18,469
Two-year-olds
29
3
4
5
10.34%
41.38%
$190,838
$6,581
Claiming
55
9
6
10
16.36%
45.45%
$212,606
$3,866
First-time starters
23
2
3
2
8.7%
30.43%
$104,318
$4,536
Note: Syndicate list and syndicate statistics have been calculated by equineline
Syndicate Details
| | |
| --- | --- |
| Stable Size: | 80 |
| Number of Owners: | 500 |
| Avg. # of Owners/Horse: | 8-15 |
| Primary Trainer(s): | Christophe Clement, Anthony Dutrow, Jerry Hollendorfer, Graham Motion, Dale Romans, Kelly Rubley, John Shirreffs, Dallas Stewart, Tom Morley, George Weaver |
| Tracks Currently Racing: | Stables compete nationwide on the New York, Florida, Southern California, Mid-Atlantic, Kentucky and Louisiana circuits |
Syndicate Bio
West Point Thoroughbreds manages racing partnerships across North America which provide individuals unique opportunities to fulfill their dreams of owning a Thoroughbred racehorse and competing at the highest levels of the sport. We give our Partners access to a level of the game that might otherwise be unavailable to them, and use our unparalleled institutional knowledge and customer service to provide an insider experience which is positive and memorable every step of the way to the Winner's Circle.
Our website has a great deal of information for those researching ownership and interested in learning about racing. Top horses campaigned by West Point include Grade 1 winners Always Dreaming, Twilight Eclipse, Ring Weekend, Awesome Gem, Macho Again, Flashy Bull, Lear's Princess, and Dream Rush.
Our newest graded stakes winners are Berned, a 4-year-old daughter of Bernardini, and 3-year-old son of Jimmy Creed and mulitple graded stakes winner, Kanthaka.  Kanthaka won the 2018 San Vicente Stakes (G2) and the Lazaro Barrera Stakes (G3). Berned won the 2018 Molly Pitcher Handicap at Monmouth.
West Point owned a minority interest in 2017 Kentucky Derby winner Always Dreaming. Commanding Curve, trained by Dallas Stewart, was the runnerup in the 2014 Kentucky Derby.
Twilight Eclipse won his first grade one in 2015, the Man O'War Stakes (G1) at Belmont. In 2013, Twilight Eclipse set a WORLD record for 1.5 miles on any track surface winning the Pan American Handicap (G2) at Gulfstream Park. He is now enjoying a second career eventing with West Point's racing manager Erin Birkenhauer.  Grade one and multiple graded stakes winner Ring Weekend won five graded stakes including the 2015 Frank Kilroe Mile (G1) and the 2014 Tampa Bay Derby (G2). He is now in a second career as an event horse and training with U.S. Gold Medal Olypian Phillip Dutton.
| | | | | |
| --- | --- | --- | --- | --- |
| Horse | Sex | Current Earnings | Best Win Race Class | Best Win Stake |
| Hard Not to Love | Filly | $451,800 | Grade 1 winner | La Brea S. G1 |
| Decorated Invader | Colt | $270,035 | Grade 1 winner | Summer S. G1 |
| Carressa | Filly | $138,600 | Grade 3 winner | Megahertz S. G3 |
| Seven Trumpets | Colt | $114,314 | Stakes winner | Good Lord S. |
| Dabo | Gelding | $84,894 | Stakes winner | Bruce D. Memorial S. |
| Coach Rocks | Filly | $118,767 | Winner | |
| Freaky Styley | Colt | $113,560 | Winner | |
| Room to Finish | Filly | $108,980 | Winner | |
| Inspiressa | Filly | $96,600 | Winner | |
| Chestertown | Colt | $71,540 | Winner | |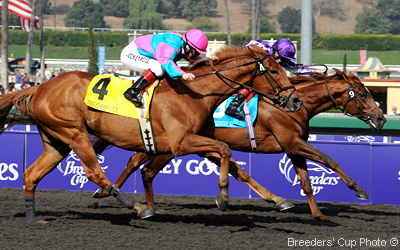 | | | |
| --- | --- | --- |
| References Name | # Horses Trained | Best Horse Trained |
| Available Upon Request | | |