Submitted by

maintainer

on Tue, 2012-09-04 12:54
Category
Starts
1st
2nd
3rd
Win %
% 1st, 2nd or 3rd
Earned
Avg Earnings per Start
Dirt
6
0
0
1
0%
16.67%
$5,724
$954
Turf
0
0
0
0
0%
0%
$0
$0
All Weather
0
0
0
0
0%
0%
$0
$0
Total
6
0
0
1
0%
16.67%
$5,724
$954
Graded Stakes
0
0
0
0
0%
0%
$0
$0
Black-type Stakes
0
0
0
0
0%
0%
$0
$0
Two-year-olds
0
0
0
0
0%
0%
$0
$0
Claiming
0
0
0
0
0%
0%
$0
$0
First-time starters
0
0
0
0
0%
0%
$0
$0
Category
Starts
1st
2nd
3rd
Win %
% 1st, 2nd or 3rd
Earned
Avg Earnings per Start
Dirt
10
2
2
1
20%
50%
$101,390
$10,139
Turf
1
0
0
0
0%
0%
$112
$112
All Weather
0
0
0
0
0%
0%
$0
$0
Total
11
2
2
1
18.18%
45.45%
$101,502
$9,227
Graded Stakes
0
0
0
0
0%
0%
$0
$0
Black-type Stakes
0
0
0
0
0%
0%
$0
$0
Two-year-olds
1
0
0
0
0%
0%
$200
$200
Claiming
1
0
1
0
0%
100%
$9,400
$9,400
First-time starters
2
0
0
0
0%
0%
$312
$156
Category
Starts
1st
2nd
3rd
Win %
% 1st, 2nd or 3rd
Earned
Avg Earnings per Start
Dirt
7
1
1
2
14.29%
57.14%
$46,890
$6,699
Turf
1
0
0
0
0%
0%
$310
$310
All Weather
0
0
0
0
0%
0%
$0
$0
Total
8
1
1
2
12.5%
50%
$47,200
$5,900
Graded Stakes
0
0
0
0
0%
0%
$0
$0
Black-type Stakes
0
0
0
0
0%
0%
$0
$0
Two-year-olds
0
0
0
0
0%
0%
$0
$0
Claiming
1
1
0
0
100%
100%
$24,000
$24,000
First-time starters
0
0
0
0
0%
0%
$0
$0
Category
Starts
1st
2nd
3rd
Win %
% 1st, 2nd or 3rd
Earned
Avg Earnings per Start
Dirt
5
1
1
1
20%
60%
$52,914
$10,583
Turf
1
0
0
0
0%
0%
$240
$240
All Weather
0
0
0
0
0%
0%
$0
$0
Total
6
1
1
1
16.67%
50%
$53,154
$8,859
Graded Stakes
0
0
0
0
0%
0%
$0
$0
Black-type Stakes
0
0
0
0
0%
0%
$0
$0
Two-year-olds
6
1
1
1
16.67%
50%
$53,154
$8,859
Claiming
0
0
0
0
0%
0%
$0
$0
First-time starters
2
0
0
0
0%
0%
$404
$202
Category
Starts
1st
2nd
3rd
Win %
% 1st, 2nd or 3rd
Earned
Avg Earnings per Start
Dirt
13
2
1
2
15.38%
38.46%
$43,194
$3,323
Turf
10
0
1
1
0%
20%
$16,896
$1,690
All Weather
0
0
0
0
0%
0%
$0
$0
Total
23
2
2
3
8.7%
30.43%
$60,090
$2,613
Graded Stakes
0
0
0
0
0%
0%
$0
$0
Black-type Stakes
0
0
0
0
0%
0%
$0
$0
Two-year-olds
0
0
0
0
0%
0%
$0
$0
Claiming
9
1
0
2
11.11%
33.33%
$19,394
$2,155
First-time starters
0
0
0
0
0%
0%
$0
$0
Category
Starts
1st
2nd
3rd
Win %
% 1st, 2nd or 3rd
Earned
Avg Earnings per Start
Dirt
14
2
2
4
14.29%
57.14%
$119,507
$8,536
Turf
3
0
0
0
0%
0%
$843
$281
All Weather
0
0
0
0
0%
0%
$0
$0
Total
17
2
2
4
11.76%
47.06%
$120,350
$7,079
Graded Stakes
0
0
0
0
0%
0%
$0
$0
Black-type Stakes
0
0
0
0
0%
0%
$0
$0
Two-year-olds
1
0
0
1
0%
100%
$2,000
$2,000
Claiming
1
0
1
0
0%
100%
$6,000
$6,000
First-time starters
1
0
0
1
0%
100%
$2,000
$2,000
Category
Starts
1st
2nd
3rd
Win %
% 1st, 2nd or 3rd
Earned
Avg Earnings per Start
Dirt
19
7
1
4
36.84%
63.16%
$183,791
$9,673
Turf
5
1
0
0
20%
20%
$23,412
$4,682
All Weather
0
0
0
0
0%
0%
$0
$0
Total
24
8
1
4
33.33%
54.17%
$207,203
$8,633
Graded Stakes
0
0
0
0
0%
0%
$0
$0
Black-type Stakes
3
0
0
0
0%
0%
$6,500
$2,167
Two-year-olds
2
1
0
1
50%
100%
$21,000
$10,500
Claiming
11
4
0
3
36.36%
63.64%
$88,712
$8,065
First-time starters
1
0
0
1
0%
100%
$3,000
$3,000
Category
Starts
1st
2nd
3rd
Win %
% 1st, 2nd or 3rd
Earned
Avg Earnings per Start
Dirt
15
5
3
3
33.33%
73.33%
$151,020
$10,068
Turf
4
0
0
0
0%
0%
$555
$139
All Weather
0
0
0
0
0%
0%
$0
$0
Total
19
5
3
3
26.32%
57.89%
$151,575
$7,978
Graded Stakes
2
0
1
0
0%
50%
$34,500
$17,250
Black-type Stakes
2
0
1
0
0%
50%
$34,500
$17,250
Two-year-olds
2
0
1
1
0%
100%
$12,000
$6,000
Claiming
13
3
1
2
23.08%
46.15%
$49,275
$3,790
First-time starters
1
0
0
1
0%
100%
$4,000
$4,000
Note: Syndicate list and syndicate statistics have been calculated by equineline
Syndicate Details
| | |
| --- | --- |
| Stable Size: | 3 |
| Primary Trainer(s): | Gary Gullo |
| Tracks Currently Racing: | NYRA |
Syndicate Bio
TEAM POWER PLAY RACING is currently fifth in the country for active syndications in 2012. We are hoping to pass the million dollar mark in earnings by years end. Our stable roster has included the top turf star, Yankee Master, who was 2 for 3 at (2) including the winner of the Woodford Reserve Bourbon Stakes at Keeneland. Saratoga Race Course brought additional magical moments when the son of Silver Deputy, Second In Command, set and broke the course record for 5-1/2 furlongs (t) 101:2. Second In Command has since gone on to sire multiple stakes winners and stands in Brtish Columbia, Canada.
TEAM POWER PLAY RACING campaigned a new prospect over the last couple of years sired by Cuvee, a 5 year old mare named Curlina. She was stakes placed in the G (2) Vagrancy at Belmont Park in 2011. She will sell at Keeneland Sale in January 2013 and will be consigned by Bluewater Sales.
There is nothing that compares to the sheer excitement of thoroughbred ownership. The sport of kings, where the dream is as real as it is elusive. Sophisticated men and women in record numbers are joining the ranks of thoroughbred ownership for pure excitement and competition. It's a game of extreme skill, yet measurable chance, with emotional and abounding rewards like none you have ever experienced.
Is thoroughbred ownership without risk? Absolutely NOT! It is a game loaded with risk played at the highest level and complexity is an undeniable part of the game. It is also a $17,000 yearling like REAL QUIET winning the Kentucky Derby and the extraordinary story of FUNNY CIDE and 10 friends taking the ride of a lifetime.
TEAM POWER PLAY RACING is forming a partnership for racing enthusiasts to purchase race prospects in the winter of 2013. The partnership runs like a co-op with each member owning a portion of the entire stable; projected to be a race horse, yearling or two-year-old. The multiple horse concepts will allow you as partners to focus on a small number of horses and to lower expenses. This is the blueprint to our success.
TEAM POWER PLAY RACING will buy 1 to 2 horses in a price range with high probability for success. Buying in the $30-50K range gives the stable strong athletes with impressive pedigree to compete against top competition. Partners own equity in horses at a price range reserved for the middle to high end of the thoroughbred market. While racing has numerous variables, our program optimizes the chances for success through experience and depth in our stable.
TEAM POWER PLAY RACING directs a dedicated plan to single world-class trainers who will select and train our horses. We scrutinize and carefully choose trainers who are recognized in the industry as an expert in the selection of racing prospects. Their knowledge and experience is a key factor to our success. Other partnerships use multiple trainers with varying techniques and pay excessive agent fees for purchasing horses.
Our Managing Member receives an industry low 10% of the purse earnings and equity. We have a unique concept in racing partnerships where the Managing Member is paid only if the partners are successful….vested in your success! Many partnerships feature extremely high management fees whether the horse(s) perform or not. Your dollars go exclusively toward the purchase of horses; no fees or markups are applied. Other partnerships buy racing stock and mark them up to their members, frequently as high as multiplies of the original purchase price.
At TEAM POWER PLAY RACING, we love what we do and believe it is reflected in our race records! We continually strive to make well informed, thorough decisions on behalf of our partners. We have demonstrated that integrity, hard work, experience and an incomparable business acumen count when putting together a successful string of athletes to develop into stakes caliber runners. TEAM POWER PLAY RACING horse(s) will compete at the world's greatest venues and are selected and trained by world-renowned thoroughbred trainers. We invite you to join our Team!
| | | | | |
| --- | --- | --- | --- | --- |
| Horse | Sex | Current Earnings | Best Win Race Class | Best Win Stake |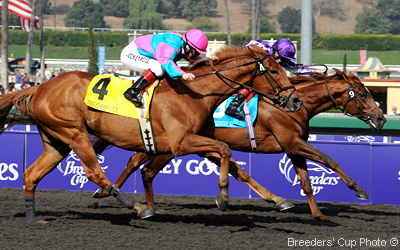 | | | |
| --- | --- | --- |
| References Name | # Horses Trained | Best Horse Trained |
| Team Power Play Racing | 3 | Curlina |